In 2018 Dario Camporese celebrated 40 years in the business.We asked him what were the secrets of SAOMAD's success in overcoming market crises to become one of the main manufacturers of work centres for wooden doors and windows.
Mr Camporese, in 1978 you decided to carry on the company founded by your father and in 2018 you celebrated your 40th anniversary – what are your fondest memories of these 40 years?
The greatest rewardsare the compliments I received and still receive from satisfied clients.Being told by a client, often years later, that he is happy with the strong, reliable, great machine you sold him is quite something.It means that over the years we have been able to understand how the markets were evolving and to foresee the requirements of our clients.
If you had to present SAOMAD in a nutshell, what would you say?
It's a company that invests a great deal in innovation and technology to give clients machines that are totally reliable and easy to operate.With SAOMAD work centres, a door and window manufacturer can make very high quality products without needing to have a specialist workforce.In short, a SAOMAD client saves time and money while increasing his productivity.
All companies have a turning point, a step upwards. What was yours?
Realising in time that the moment had come to move from angular centres – where we were market leaders – to robotic centres such as Woodpecker. This was a really important development. We were the first manufacturers to think of this kind of solution.
It was a breakthrough that required a great deal of financial and human commitment on our part, but it was fundamental to staying successfully in the wooden doors and windows market.
Why are these work centres so successful? Because they can work without being constantly manned by the operator and they offer unlimited production choice.
We have once more acquired a position of leadership, thanks to our high specialisation and the wide range of custom possibilities that we are able to offer and deliver.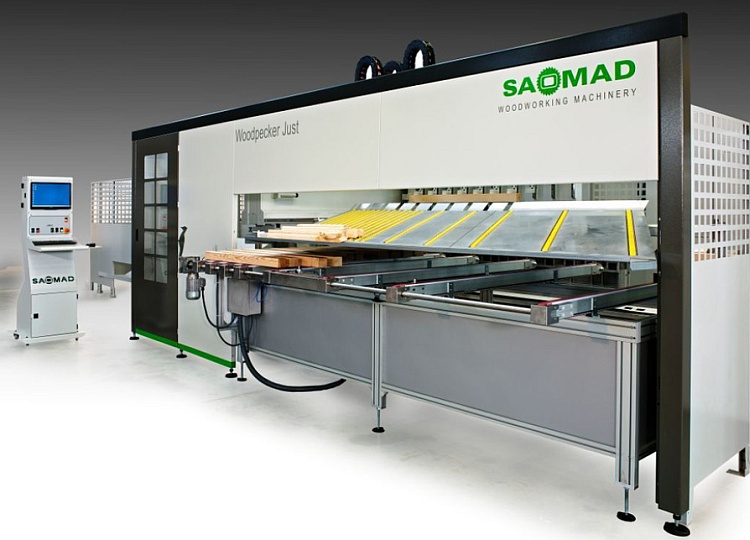 Overall the company has been going 60 years – is there a secret to this longevity?
Quoting an entrepreneur, I'd say that the ingredients of SAOMAD's success are a little intelligence, a little luck and lots and lots of tenacity.
Wooden doors and windows are your speciality. Have you ever thought of changing or perhaps of broadening your range?
Actually I have often wanted to make moulders, clamps, pantographs etc., but I believe our trump card has been precisely that of not diversifying, but of super-specialising in the sector of wooden doors and windows.
SAOMAD's strategy for the near future?
On the one hand,lots of investment in research and innovation, on the other, increasing our market strength.
What do you think is the main challenge the company will have to face?
In my opinion it will be increasing our market strength. R&D is in SAOMAD's blood, so to some extent I take it for granted. After all, in this business, if you don't invest in technology and innovation, you risk going under fast.
Our sector is a fairly small niche. The market is in Europe, and for us it is essential to succeed in entering those markets where we are not yet present, while strengthening our presence in our current markets.
A secret project that, one day, you would like to work on?
More than a secret project, at the moment I am finalising purchase of a work centre that will enable SAOMAD to work better, deliver faster and further improve on the quality of our work centres.
And for some months we have been examining a robotics system for warehousing, so that our work centres for metal machining work on continuous cycle and unmanned.