The Woodpecker 60 working centre manufactured for Norwood Sp.z o.o.is a concentration of innovative technological solutions that have been highlighted in a video that can be viewed also on the website's home page.
Norwood Sp.z o.o. is a Polish-Norwegian company that produces 100-120 wooden doors and windows a day. "The most suitable working centre for their production requirements is certainly the Woodpecker 60", Dario Camporese claims.
"The machine we have delivered is a sum of all of the experience gained by our company in these recent years. This result has required a considerable effort on our part – an example of this is the 6 months of testing just for the software.
In the end, though, the client was very satisfied also thanks to our anticipating the delivery time set in the contract. These reasons have convinced us that it was important to create a video to highlight these new technological solutions".
The innovative elements of the Woodpecker 60 working centre
"One of the innovative concepts is the fact that the clamps work simultaneously", the SAOMAD technicians explain. "This is also one of the first machines in which we have made the multi-unit T7 head independent so that it can drill holes, cut and mill independently from the other heads. This means that while the machine is performing tenoning and profiling procedures, this dedicated group can create holes and grooves, for example".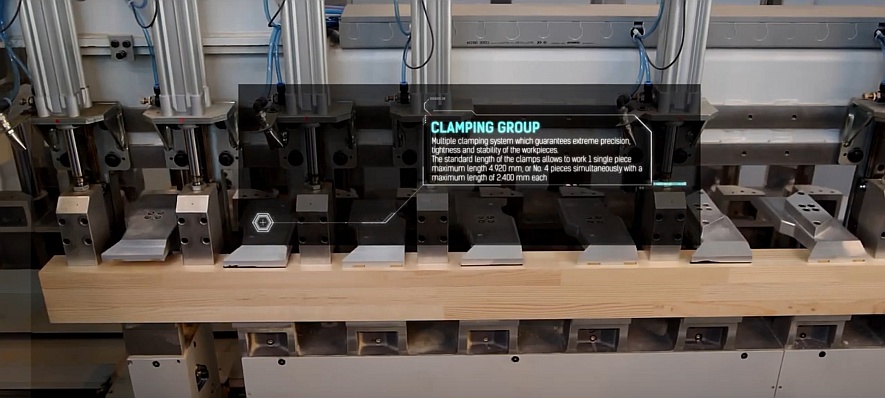 With Woodpecker, therefore, one can process simultaneously 4 pieces up to 2700 mm long. This results in a truly significant reduction in production time.
And not only that. The Woodpecker 60 working centre offers other important benefits:
An innovative loading/unloading system that works in the background;
Super-fast tool changing and possibility of storing up to 180 tools on the storage racklocated in the back of the working centre, with 10-way wheels dedicated to the electrospindles that make tool change operations even quicker;
It is possible to perform tool reading using bar codes, so as not to make mistakes when manually inserting them in the rack;
The ultrasonic tank allows to thoroughly clean the resin and dirt from the tools as a nighttime background task.
"The working centre designed for Norwood is like a F1 car", Dario Camporese adds. "The innovative solutions implemented on the race track are then transferred to serial production automobiles. In the same way, the technological solutions seen in the video are available on the entire range of Woodpecker machines".