Our interview is dedicated to woodworking firm Falegnameria Mancin Antonio of Lomello (Pavia), Italy, established in 1989. The purchase of a Woodpecker Just 3500 has allowed the company to improve its flexibility – its major strength – as well as production output and processing precision. Matteo Mancin tells us about it.
If I asked you to present your company with two thoughts, what would you say?
We are a family-run company (with a total of 7 employees) present on the market since 1989. In fact I represent the second generation. Our core strength is flexibility.
Even though we aim at industrialising our processes, we conserve an artisanal mindset, which means that for us there is no 'standard product'. We are capable of meeting all of our clients' requirements, even the most out of the ordinary ones.
What type of products do you manufacture?
We produce wood/aluminum windows and doors, shutters – louver shutters, solid shutters, open slat louvers, etc. –and solid wood doors for interiors, classic panel doors for interiors. Basically 95% of our production, however, consists of windows and doors for exteriors.
Which market area do you work in?
We operate in Val d'Aosta, Piedmont, Lombardy, a bit in Liguria, the closer areas of Emilia. Speaking in general, we work in North-Eastern Italy.
Who is your ideal client?
We essentially work under commission, for retailers, companies and other carpentry shops. We don't actually send private clients away, but we don't go looking for them either because our structure is not designed to follow this kind of clientele.
When did you purchase the SAOMAD machine?
We purchased the Woodpecker Just 3500 about three years ago.
Were you already familiar with the company? Did you go straight to them, or did you do a market survey first?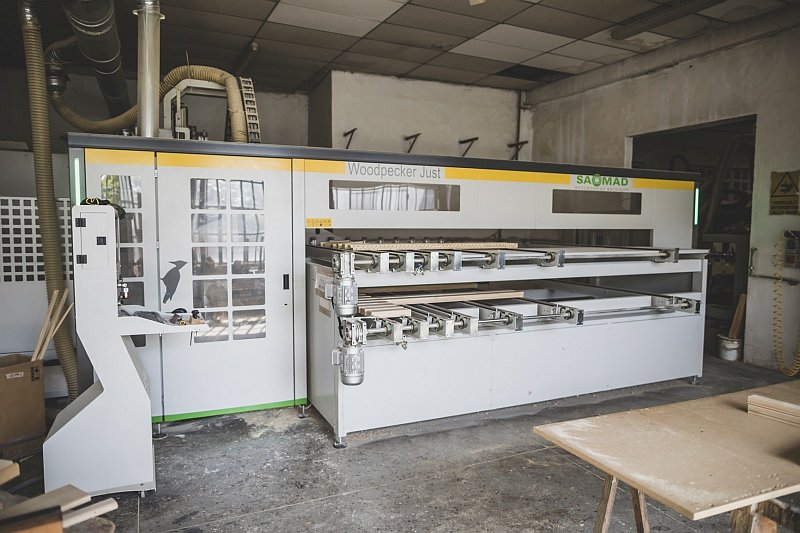 My father already knewSAOMAD, having bought from them an angular machining centre about 10-12 years ago, and indeed the company was famous for that product at the time.
Although we were certain that SAOMAD made very good machines, we wanted to give a look around in order to better understand the type of solution we were looking for.
The latest generation of machining centers constitute a great step forward for carpentry shops. 'Old generation' carpentries find it hard to implement concepts such as "unmanned processing", at least until they actually experience the benefits that come with them.


So which were your main requirements?
As I was saying, our company has its strength in flexibility. Indeed, we hardly ever say 'no' to a request. We did have a big problem, though. We were slow in changing from one model to another. It took us about one day to change thickness. Our intent was to grow not so much in the number of pieces output but rather to streamline production, so as to become faster and to limit errors.
After one year of assessment, what led you to prefer the Woodpecker by SAOMAD to the products of their competitors?
Our choice was influenced partly by what we already knew about SAOMAD, a company with which one can talk in a different, let me say more informal, manner, and partly by the machine itself and its structure. The Woodpecker is structurally more 'important'. For the way it is designed and made, it transmits the impression of greater solidity and reliability. The Woodpecker gave us greater assurance also because it allows for unmanned processing.
So you followed your heart too, it seems. After three years, though, what is your opinion?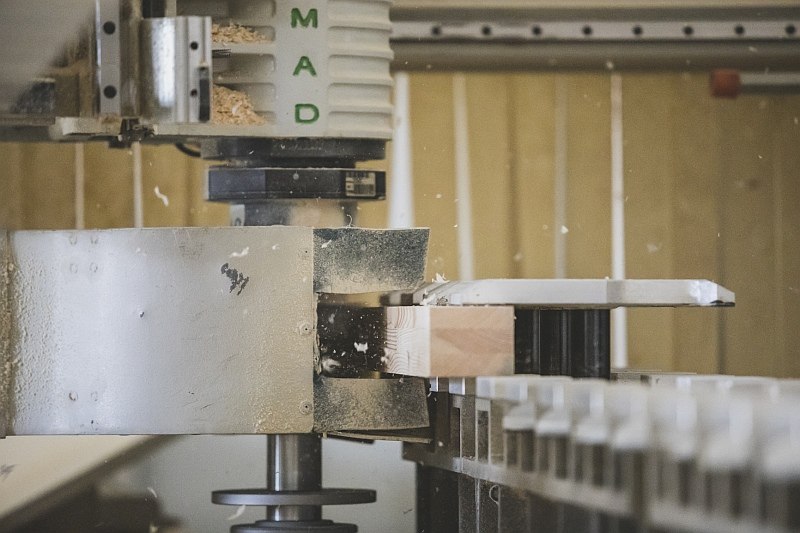 I am totally satisfied. Our production has improved in all aspects: speed, quality and reliability. We always have perfect pieces. Now we can calmly accept orders that before we would hesitate to embark in.
We have also entered other markets, such as the disassembled window kit niche, which before was unthinkable. Now we supply window kits to other carpenters who then certify them on their own.
We have shortened delivery time on semi-finished windows and doors from 90 days to 60 days, regardless of the product. I would say that's a nice leap forward at production level.
As a user of the work centre, is there some aspect of the machine you would like SAOMAD to improve?
As hard as I try, I find it difficult to find a defect. After all, I am familiar with the company and I know that it constantly strives to improve. Dario Camporese is an entrepreneur that knows no rest, and that is good, because if you slow down you get eaten up by the competition.
One last question: what is your impression of the current market situation?
Prior to the lockdown, in the last three years we increased our turnover every year. We also opened our own 400 m2 showroom with warehouse on the state road. The market was difficult but we couldn't complain. Now we are going through a drop in production, although we do have 4-5 months of orders. After that? We can't say, it's difficult to predict.
Considering that the company has survived the previous crisis, I am convinced that we will also survive these hard times. My optimism is partly due to our having the SAOMAD machine that has enabled us to take a great step forward in terms of quality. I would say that perhaps three years ago I would not have shown such optimism.
Falegnameria Mancin Antonio (Italy)