Presented at the last edition of the Eurobois in Lyon, KAIROS is an innovative and high-tech machine for processing the structural beams, roofs, ceilings and walls of timber houses: a market niche in constant and positive evolution.
KAIROS ensures design and performance standards capable of convincing even the most demanding market operators.
The 5-axis technology and the tool change allow to carry out a wide range of machinings making the machine very flexible.
KAIROS has been designed to produce single beams ranging from 40 to 600 mm, and X-lam partitions ranging in width from 30 to 1,300 mm and of 18,000 mm maximum length.
5 features that make the difference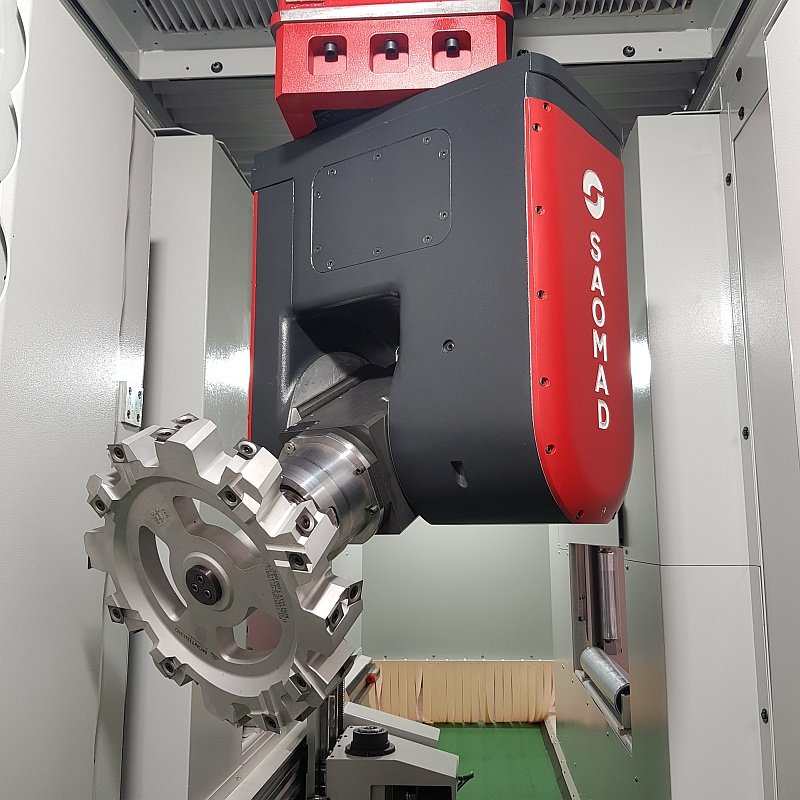 KAIROS offers solutions that give it a unique and original "personality":
the loading transfer, located on the left side of the machine, allows you to load a series of beams simultaneously and automatically and precisely. Automatic management is quick and easy;

KAIROS has a double dragging clamp INPUT – OUTPUT, with vertical presser for correct positioning of the piece. It is also equipped with lateral lockings in order to support the woodpiece and avoid unnecessary vibrations;

the cabin with total upper end lateral closure allows you to collect dust and reduce noise emissions, ensuring extreme safety during the working phases;

for greater cleaning, chips and processing waste are removed by means of a wide conveyor belt located under the designed work area;

the machined pieces are accumulated on the unloading transfer with pneumatic pusher, placed on the right side of the machine. Since KAIROS can work independently, the operator can therefore carry out other activities.
The range, consisting of three models – KAIROS-350, KAIROS-650 and KAIROS-1300 -, has an electrospindle with A + C axis with motor power of 15kW in S1, liquid cooled. Adjustable in any direction, it is possible to perform milling, drilling and profiling with the same tool in any position.
If you want more power, the KAIROS-650 and KAIROS-1300 models can be equipped with a high performance electrospindle cooled from 25 kW in S1 and 30 kW in S6. In this way it is possible to perform great machinings with maximum profitability, obtaining quality milling or drilling in very short times. For more information, send an email to saomad@saomad.com.
News published on Xylon and Xylon International in May-June 2020