On the advertising page announcing its arrival, we wrote that from our past we have generated the Performance of the future. In fact, this new machine is the fruit of many years of experience in the industry.
Its performance is superior to all machining centres in CNC in the Woodpecker range, both in terms of productivity and of machining quality.
We had left many clues but now the Woodpecker Performance is poised to take the leading role in the Saomad range. In Performance we have concentrated and synthesized 65 years of experience and technological innovation.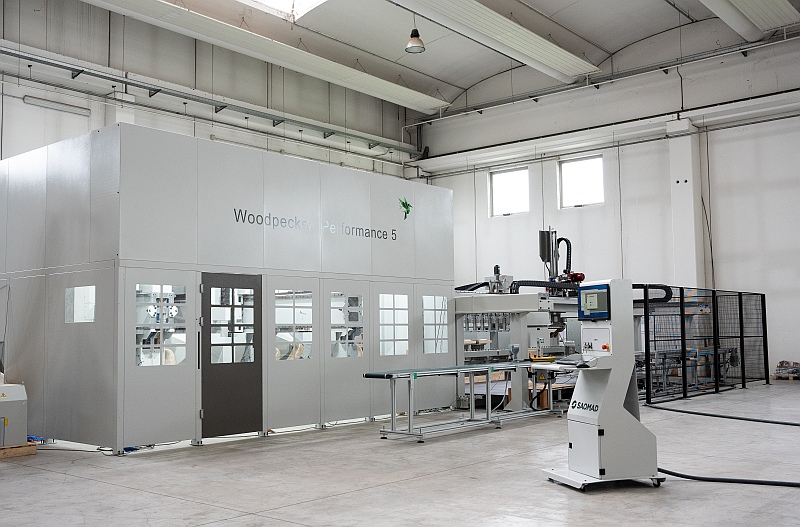 The result is a solution capable of providing wooden door and window manufacturers with excellent levels of performance, superior even to that of the machining centres in CNC we have produced so far.
Woodpecker Performance, in fact, is a full-option solution. Some solutions that can also be applied in other machining centres, such as the Woodpecker Optima or the Woodpecker 60, are standard here because Performance is designed to guarantee very high productivity levels.
We are dealing with a machine that targets businesses that intend to conduct two or three 24H shifts, five or six days a week.
The difference in numbers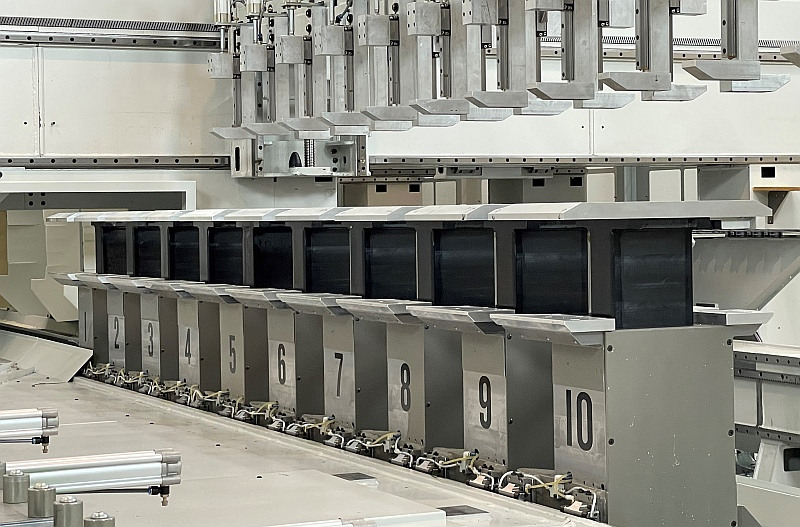 Some of the data are significant: the Woodpecker Performance is equipped with an automatic loading/unloading buffer with a processing capacity of 400 pieces. This buffer is integrated with an intelligent magazine that allows to load up to maximum 1,200 pieces.
The multiple clamp system allows for the simultaneous processing of up to maximum 10 work pieces, depending on the size of the piece, of course.
The machine can work in fully autonomous mode, without the need for professional operator supervision. This solution solves the problem of finding qualified (as well as unskilled) personnel – a situation that plagues companies a little all over Europe.
Processing efficiency and flexibility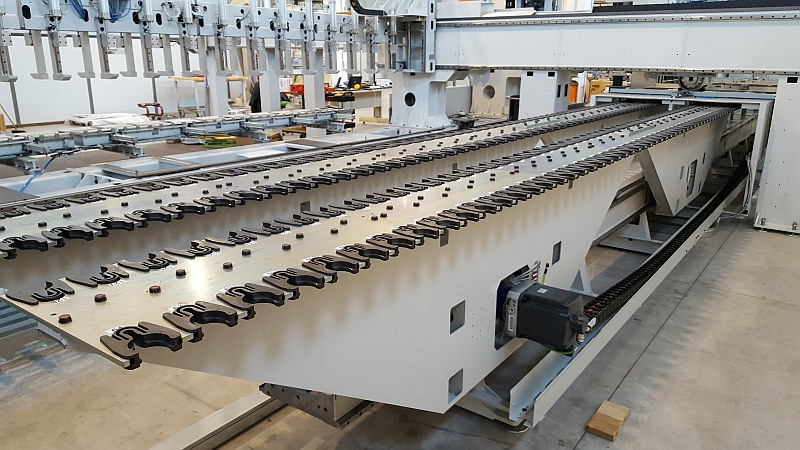 The Woodpecker Performance is equipped with five independent liquid-cooled electro-spindles each featuring a 24 kW motor and HSK-63E quick-release tool holder.
Another distinctive feature of this machine is a 250-slot linear tool magazine capable of loading up to 500 tools. Given the high levels of productivity, we very often equip ourselves with double tools in order to eliminate downtime and tooling costs.
Unmatched compactness
One factor that distinguishes the Woodpecker Performance from other machines found on the market is its compactness. The size that the machine occupies within the factory is truly limited: we can say that we are the only ones to have a machine with such levels of productivity and such a small overall size.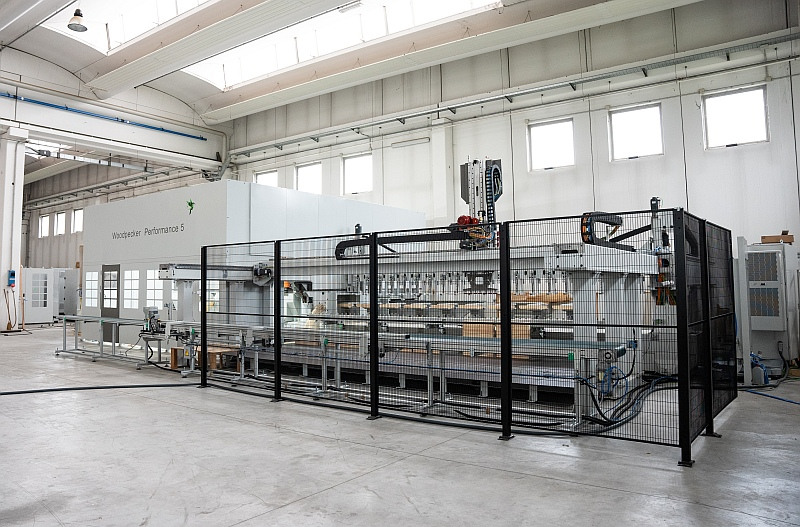 Everyone has space problems, so Woodpecker Performance offers a big advantage to wooden door and window manufacturers who will have fewer problems fitting it into their production plant.
A compactness that is also aesthetically appealing. We have worked hard on the design of all our machines because looks aren't everything but they help, and the entrepreneur should be proud of what he or she has bought from an aesthetic standpoint too.
In addition to functionality, we have aimed to achieve clean and elegant ergonomics. This research on design also translates into increased safety.
The Woodpecker Performance has an entirely enclosed structure, for example, to reduce noise and keep dust inside where the extraction systems are.
This means that the operator simply loads and unloads work pieces and does not need to intervene manually inside the machine's operating area.