We put some questions to Pierre Strausak, the owner of H. Strausak AG in Meinisberg/Biel (CH) who highlights the strengths of Italian machines and of our Woodpecker work centres in particular.
A short presentation of H. Strausak AG…
We sell wood processing machines, and we specialise in serving middle-sized companies with 12 to 25 employees, which in Switzerland represent the majority because the wooden windows and doors market is smaller than the Italian one. Most of the machines we offer are from Italian manufacturers. Our assortment ranges from standard solutions to CNC processing centres.
(photo below: Pierre Strausak is second from left)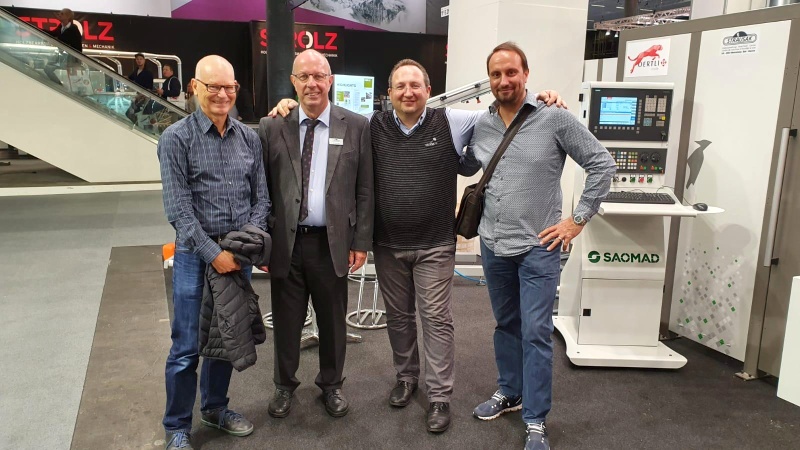 Your strengths?
Firstly, a good reputation built on over 50 years of work. We give our Swiss clients – who need to turn to someone who is physically present in the region – immediate assistance in terms of production, thanks to our in-depth knowledge of wooden windows and doors, and in terms of relations with the machine manufacturers.
Unfortunately, our windows and doors manufacturers are not fully aware of the technological level of modern work centres. This means that their decisions rather than taking into account the technical aspects are based on human aspects, so they prefer to give their custom to those who they feel they can trust.
The 'secret' therefore is to succeed in building with the prospective client a relationship based on trust. This requires great commitment on our part in being always present in the event of requests, issues, etc., and in acting as liaison between the client and the machine manufacturer.
Your market?
Our market area covers German-speaking Switzerland and French-speaking Switzerland. Sometimes we try to penetrate Italian-speaking Switzerland but it is a difficult market, because the windows and doors manufacturers in that area more easily and more frequently turn to Italian companies.
Why did you decide to sell mostly Italian machines?
I firmly believe in Italian machines, because they are of good quality and competitively priced too. The SAOMAD solutions are developed excellently. Most importantly, the company is willing to meet the needs of the potential client and to implement customised solutions. This is an attitude that is highly appreciated by our windows and doors manufacturers and helps to sell. I believe that this flexibility in meeting the clients' needs is the strength of Italian companies.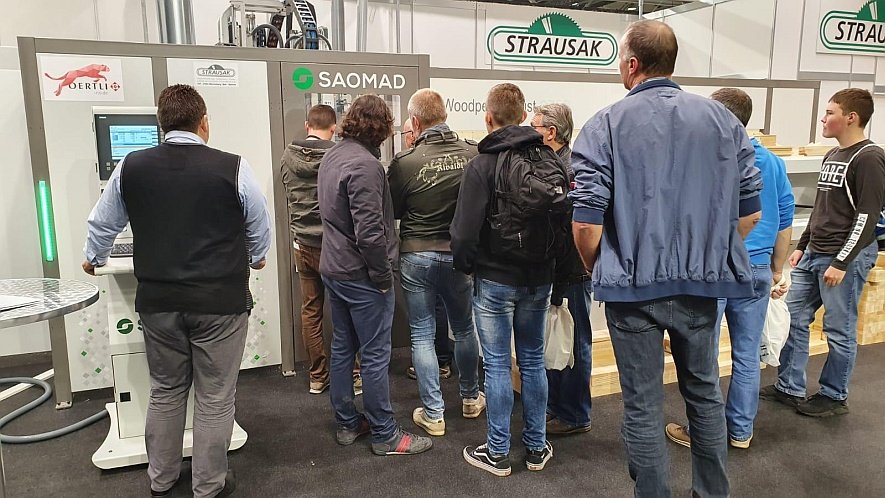 What other aspect of SAOMAD do you appreciate in particular?
The fact that the Woodpecker machines are highly durable solutions. Another thing is that SAOMAD does not save money when it comes to materials and components, which makes their products reliable over time while ensuring very high and constant levels of performance.
In mid-October 2019 you were present at the Holz fair at the Basel Exhibition Centre. What was your impression?
Holz confirmed its status as the major fair for craftsmen, dealers and the wood industry in Switzerland. We participated with our own stand, aiming to exhibit the Woodpecker Just 3500 (as shown in the photos). I must say that this time we had more visitors than in the previous edition held three years ago. All contacts were with qualified and highly interested people, which means that overall it was a very positive experience.
Give us an example of a Swiss windows and doors manufacturer who bought a SAOMAD machine…
Among our clients we have the Hunziker woodworking firm in Schöftland (CH), for example, mentioned also in the blog. In 2018 they bought a Woodpecker 15/2, a nice machine that brought them a more than 10% increase in production.
Strausak-Holz2019