The Woodpecker Performance machining center– the name derives from the fact that it represents the performance of the future –is the child of many years of innovation and experience. Performance is superior to all other machining centers of the Woodpecker range, offering superior productivity and machining quality levels.
The machining center with the intelligent magazine
This is a 'full-option' solution designed to provide door and window manufacturers with excellent performance. Woodpecker Performance is equipped with an intelligent magazine that allows to load from 400 up to 1,200 workpieces.
Thanks to the multiple clamp system, up to 10 pieces can be processed simultaneously, depending on the size of the piece. Furthermore, with its five independent electro-spindles it is able to deliver high power for any machining operation.
The linear tool magazine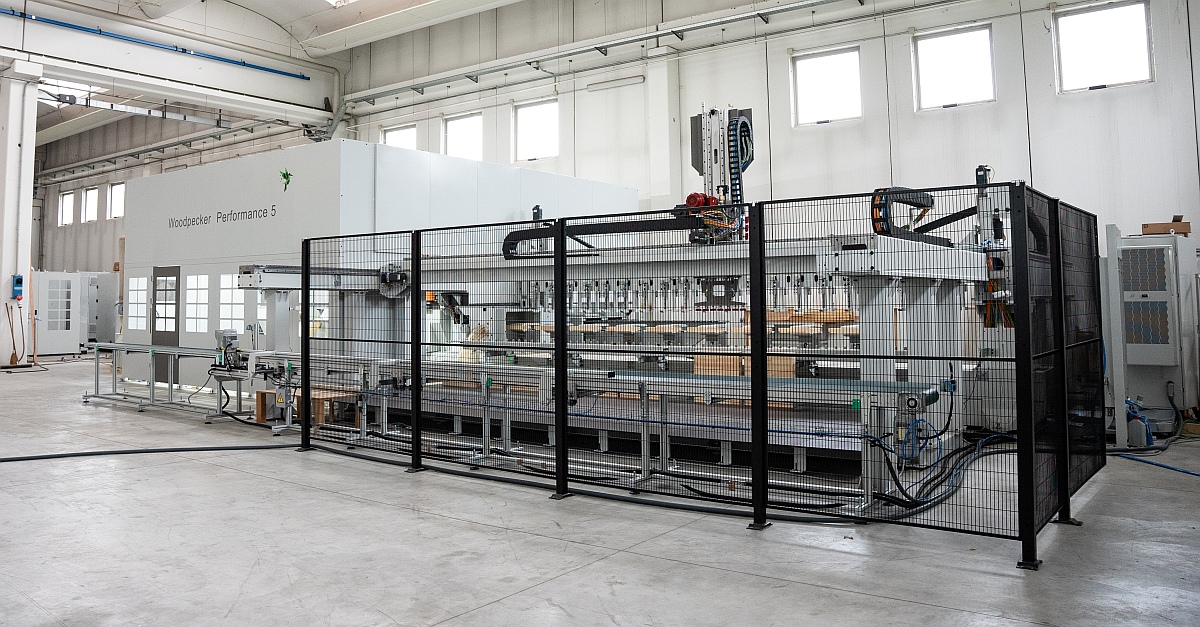 Another distinctive feature of this machine is its 256-slot linear tool magazine, which can hold up to 500 tools.
To achieve high levels of productivity, it is very often equipped with double tools to eliminate downtime and tooling costs.
The Woodpecker Performance machining center can operate autonomously for up to 8 hours a day, without the need for an operator, responding to the difficulties of finding qualified personnel. It is capable of producing from 20 to 80 windows per day in double shifts.
Technology and compactness
The Performance offers a number of options, including an ultrasonic bath for automatic tool washing, to ensure longer tool's processing life. Its compactness is another feature that sets it apart from other solutions on the market.
It occupies a truly minimal space on the factory floor. We can safely say that we are the only ones to have a machine with such productivity levels and such a small overall size All this, combined with clean, elegant ergonomics.
We can create the perfect machining centre for your needs because it is possible to incorporate moulding, sanding, impregnating units anda drying tunnel in the line.
People driving technological innovation
We always attach great importance to the technical features of our machining centres, because the level of technology we achieve with our projects is really very high and we find it impossible not to talk about it.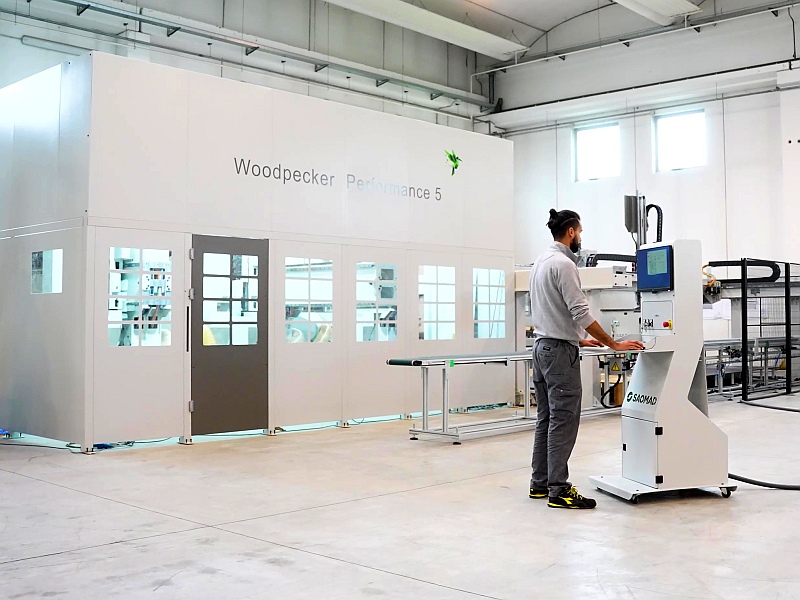 But behind all this there are people, our employees, who work with passion and dedication to achieve ever higher standards.
Our Technical Department analyses every detail of the technical drawings and designs of our machines because every detail is fundamental in guaranteeing their effectiveness.
A well-organised Purchasing Department is always ready to respond to market demands and work with local suppliers, because for Saomad, being Italian is important and helping local businesses is equally so.
The Production Department realises everything that was previously just a project: from machine bases to complete structures, everything is produced in-house at our plant in Padua by expert hands and advanced machinery.
The Sales Department follows customers step by step in their purchasing process with care and patience, care that we do not neglect even in the after-sales stage because this is when the machinery comes into its own.
Last but not least, our technicians and software experts bring to life machining centres run by state-of-the-art software and assist customers when needed.
All this is Saomad: it is the sum and synergy of all these 'energies' that create our machines. With Woodpecker Performance, we want to take our customers into the future of machining centres.
Some solutions you can see in this video now, others soon. Bear with us, but we wanted to leave you with some suspense.
See you soon.