At the end of 2018 a Woodpecker Just 4500 work centre was delivered to Menuiserie Naudon Mathe in Limousin (France). We interviewed Mr. Christian Naudon, pleased with the efficiency of the machine and with the general organisation of SAOMAD.
Naudon Mathe was founded in 1970 and specialises in manufacturing and installing custom-made doors and windows. Located in the Limousin region of France, it has about 40 employees and works for public contracts, as well as for the private sector and professionals. All its products – doors, windows, gates etc. – are made in its facilities in Creuse (a department of Limousin), using materials of only French origin. The company also has its own teams of installers, chiefly used on private sector projects.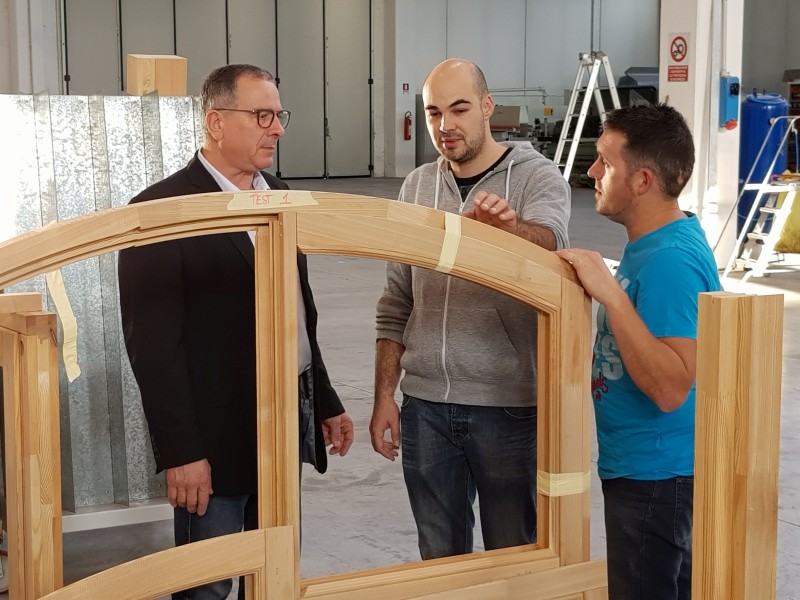 Mr. Naudon, what are your strengths?
First of all, the quality of a product manufactured in France and the ability to offer customised solutions and prices, in order to satisfy all client requirements. Our sales technicians ensure very broad-based technical advice.
We can also guarantee efficient pre- and post-sales service locally, because we are spread across five sites, with two production plants and three sales offices. And we have a design department with a technical draughtsman and designer, to meet the needs of private customers and professionals.
What types of doors and windows do you produce?
We make four kinds of doors and windows: wood, PVC, aluminium and mixed wood-aluminium. 70% of our production is PVC doors and windows, but aluminium is making headway and wood has remained stable for several years.
Our windows are mostly straight, but it is with wood that we make the majority of arched windows, or with other special shapes. This mostly concerns the restructuring of buildings that are recognised and classified as of historical, architectural or cultural interest.
What requirements led you to contact SAOMAD?
The need for a reliable, efficient machine that could guarantee high-level profitability. And SAOMAD has an after-sales service that supports the development of our production.
Many machines on the market, in fact, are not efficient enough for the investment involved, or have no after-sales support.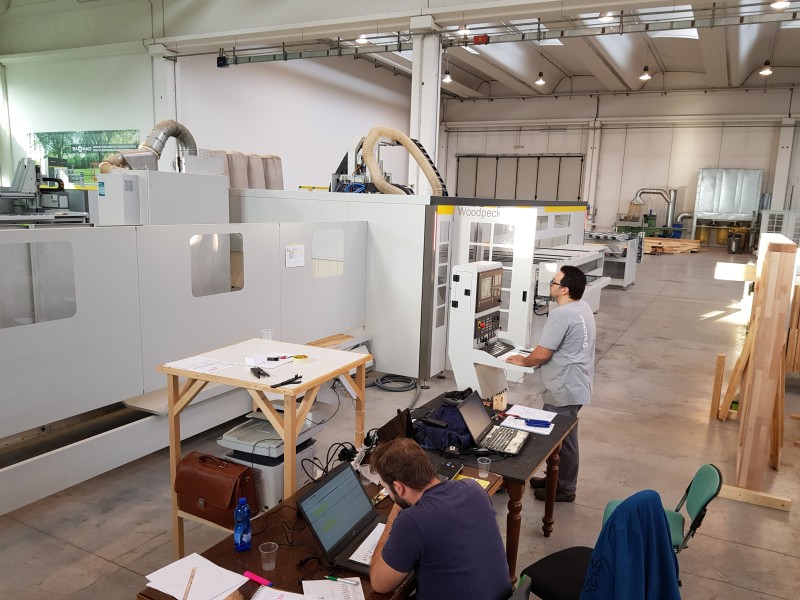 The three advantages that made up your mind?
Even trying to be brief, there are more than three advantages:
a powerful, sturdy machine;
professional and very qualified staff from a technical point of view;
the design of the machine;
the use of quality components;
the availability of all spare parts.
What do you think of the test carried out by SAOMAD?
A well-designed test, carried out in good conditions with excellent availability of personnel. The quality of processing and the provisional planning were completely adhered to.
SAOMAD fulfilled all its commitments, totally convincing us of the machine's efficiency.
What elements of SAOMAD's "style" did you most appreciate?
I liked the general organisation of the company, and also the friendliness, availability and responsiveness of the team that dealt with us. I should also emphasise SAOMAD's spirit of innovation, their taste for precision and their constant commitment to client satisfaction by making available their excellent professionals.
Menuiserie Naudon Mathe