During sales, we are often put off by objections. And yet, there is nothing more natural than an objection.
When a potential client raises an objection, it's because they are not convinced. The client is uncertain or has concerns that have not been cleared up. In short, you haven't sold your product to the client properly.
The handling of objections should focus on preventing them. It is common sense to prevent objections rather than to 'solve' any objections made.
Remember that one of the great principles of selling is the 'win-win' (I win, you win) approach: either you both win or you both lose.
If you follow this principle, selling need not be a boxing match in which the client shoots out an objection and the salesperson parries with an answer, which then causes the client to shoot out another and so on.
A 'bad' sale raises objections and, if you are receiving many objections, the first place to start looking for remedies is your presentation.
You must reinforce your skill in handling objections if you are weak in this aspect.
There are three phases in correctly handling objections:
Ask again, to discover whether what is being said is the true objection. It is very important to be very sure about what is being asked;

Agree and curtail the scope of the objection. Agreeing does not mean you are saying: "Oh, yes, I quite agree with what you are saying" which would make you lose the client. This is as bad as denying the objection, because it makes the client feel stupid. Rather, you are agreeing with the thought process, the reasoning that has led the client to make that objection. A good way of answering the client would be: "Your observation is interesting, Mr./Ms. …. Some of my best clients thought that too, but then they discovered …";

Give an answer, but always remember that the client wants to be convinced.
The last phase envisages the answer to any emerging objections. The principles described above must be inserted in the sale pitch, also with reference to specific products. They have a general but not universal value.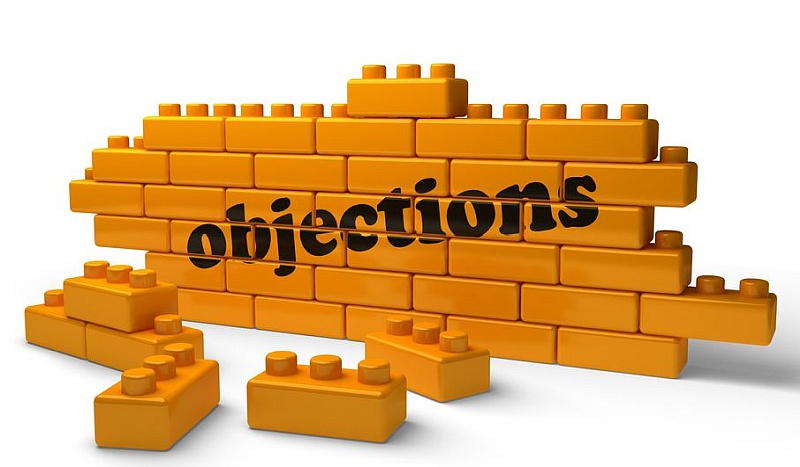 Examples of objection handling
The client experiences being interrupted by the sales person as a lack of respect. The correct approach is to listen carefully and in silence. The client will appreciate the fact that the salesperson is seriously evaluating the problem.
Agree and refute
Client: "My problem with your windows is that they cost more than those of your competitors"
Salesperson: "It's true, the initial cost is a little higher, but our windows ensure greater savings over time".
Flat denial
Client: "I'm afraid it's going to be difficult to keep this finishing as beautiful as when new"
Salesperson: "No, Ms. Smith, that's not so. The treatment and the paint used ensure long life to this window"
Weakening the objection
Client: "I'm sorry, I don't like this frame"
Salesperson: "Could you explain more precisely what it is you don't like about it?"
Client: "I don't like the wood 'pattern'"
Salesperson: "Actually, this frame is sold in various different film colours and patterns"
Source: excerpted with small changes from: Barocco V., "Porta al successo lo Show Room", Edizioni StudioCentro Marketing, Vicenza, 2020