We have interviewed Tomasz Kamiński, the Vice President and a partner of the Polish undertaking CDM Sp.z o.o., while testing the Woodpecker 15/3 they have purchased about three years after buying their first Woodpecker 30. His words illustrate how Saomad solutions meet CDM's needs of production quality and flexibility.
Could you please briefly present your company, highlighting its strengths?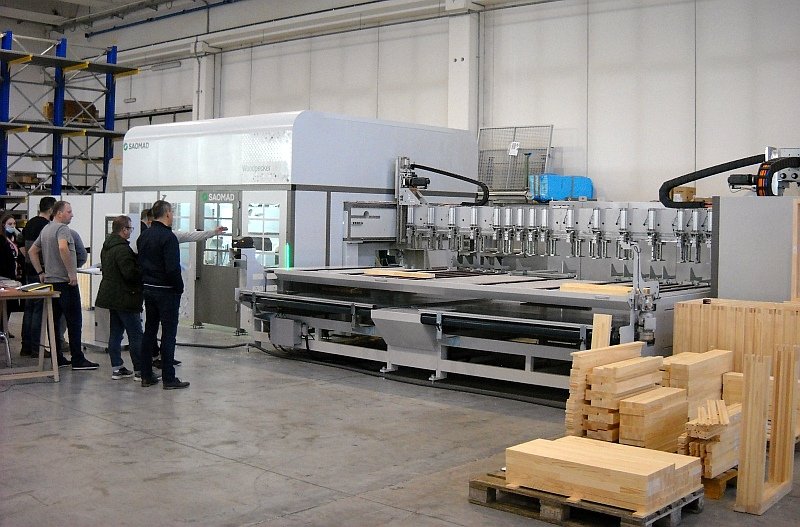 The company, located in the north of Poland, has been manufacturing wooden windows for over 20 years now. One of our key strengths is the fact that we are the producers of the glulam we use to make our windows.
Usually, doors and windows manufacturers buy glulam from other companies. We, instead, make it on location and therefore can guarantee very high quality control standards from the very start. Even though we are in northern Poland, we have very good wood species at our disposal, fir especially.
In detail, every year we have a contained yield of fir trees which means that we obtain a very hard and solid kind of wood from them that allows us to make very high quality windows. Allow me to reiterate the fact that we are the ones who choose the right kind of wood to create the semi-finished product we then use to make the finished windows.
Each market has its own needs and demands different window types. Another strength of this company is that we always strive to understand the technical and commercial destination of every window product we are making, so as to fully meet the needs of our clients from various countries
What market area do you operate in? Who is your ideal client?
We try to meet the needs of all types of clients, from the private individual to the institutional client, from the individual who is building a house to the large-scale housing contractors or the public administration.
We are currently changing the windows of one of Poland's largest buildings, the Palace of Culture and Science in Warsaw.
This job order calls for the production of 1,000 windows, a highly prestigious commission that we are advertising widely because it concerns one of the most famous Polish landmarks, almost like the Colosseum for the Italians.
We do not limit ourselves to the Polish market, however. We also export our products to Germany, France, Switzerland and quite a lot to the UK, and we are now on the brink of operating in the Canadian and US markets.
How did you learn about Saomad?
I learned about Saomad about 4 years ago via the ITA Spółka Komandytowa dealer who presented the company as a reliable partner with a focus on technical innovation and on the manufacturing of very solid machinery.
In addition to these factors, what made the difference for us was also the chance of obtaining good service both from Saomad and on Polish soil. These are the reasons that led us to purchase our first machine, a Woodpecker 30, and we are now purchasing a second machine some 3 years later.
What are the needs and objectives that led you to purchase this second machine?
After buying our first Woodpecker we immediately realized that the products' quality was much higher than what we had been obtaining by using traditional machinery.
Saomad's machine was better both in terms of quality and of output speed. The fact that we produce so many windows for various different countries requires very high production flexibility.
Our first machine was no longer enough and 3 years later we took the next step by purchasing a second Woodpecker, with the aim of producing only and exclusively with our two Saomad machining centers.
This means that with the second machine you are aiming at further improving your quality levels…
Certainly an improvement in quality level but most importantly in flexibility. The traditional machines, in fact, posed many organizational problems. To us it is of vital importance to unify the quality level and elevate it to very high standards.
In summary, what is it that you like most about Saomad?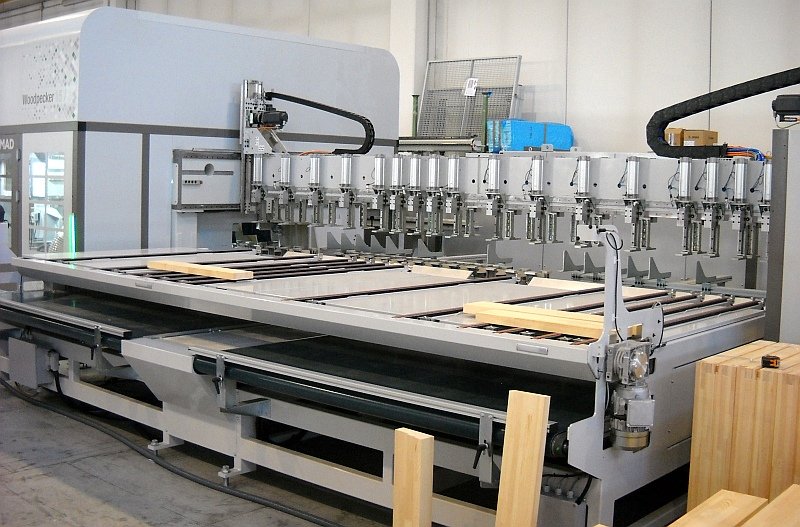 First of all, the machines. The products are very good. Our company relies mostly on production continuity. The Saomad machines are now the core of our production system, which means that the reliability factor is paramount.
I would like to stress the fact that Saomad has responded and continues to respond very well to all of the small issues or imperfections that we have encountered. We are also very pleased with the quick response of their remote assistance system.
While watching the second Woodpecker as it was being tested, I noticed so many improvements in both the machine and in its software, and this fills me with optimism. for the future and the hope that we may continue to work with Saomad in the future