In a constantly changing world, companies face the crucial challenge of remaining competitive in the global marketplace. Technological innovation has become the key to business success.
Saomad has always invested in new technology, an ongoing commitment that has enabled it to deliver superior quality products, improve operational efficiency and increase productivity. Among the suppliers who have contributed to making Saomad's machines ever more efficient and sustainable is Siemens.
From the very first CNC machining centre models, Saomad has been working with Siemens, a world leader in various sectors including machine tools.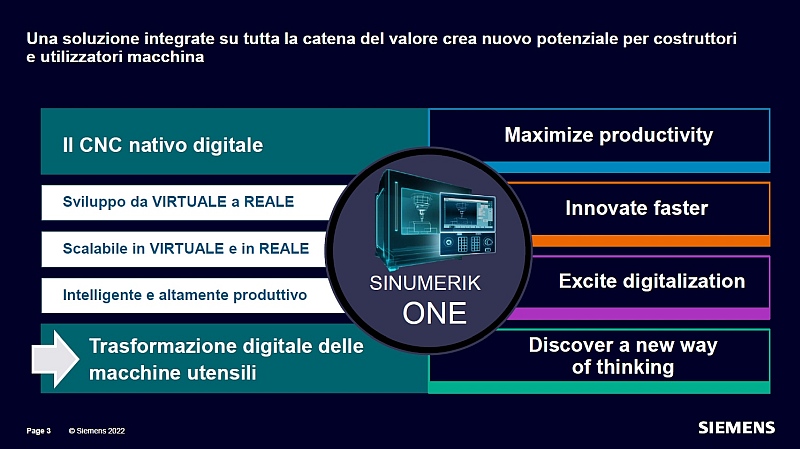 In fact, over all these years Saomad has always received valuable technical support from Siemens experts for the correct CNC configuration and automation of its machines, so as to meet even the most demanding market requirements.
Thanks to this long and fruitful collaboration, which has turned into engineering synergy between the two companies, Saomad will continue to equip its machining centres with Siemens products in the future, continuing with the latest CNC version, 'Sinumerik One'.
In this regard, we have asked Sergio Graziano, Business Development, Machine Tool System at Siemens Italy, a few questions.
What's new in this latest generation of CNC?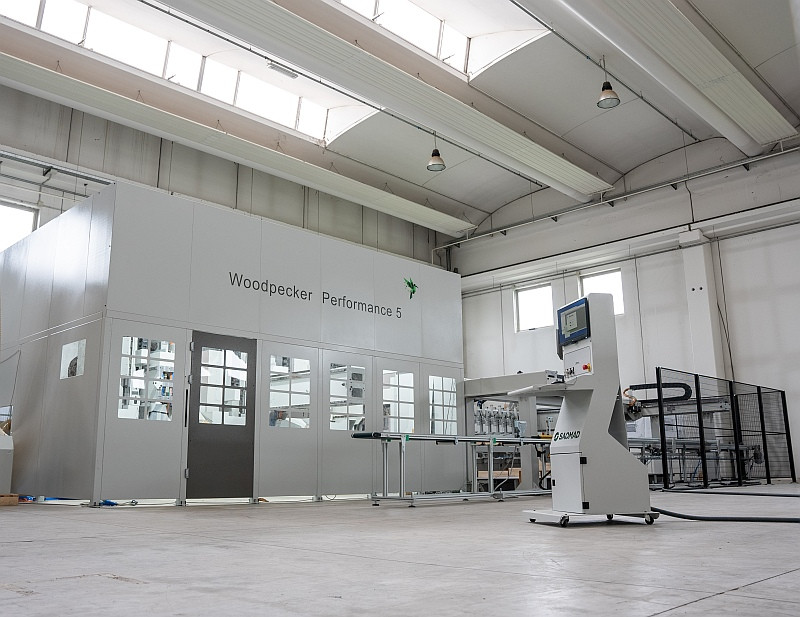 In addition to integrating everything developed in the past in terms of compatibility with drivers, motors and programs, it provides a 10-fold increase in computing speed, resulting in increased performance and productivity of the machine tool, so as to increasingly meet the needs of the industry and of Saomad that never shies away from the continuous challenge of the markets.
In fact, starting with Woodpecker Performance and Kairos, all future Saomad machines will be equipped with Sinumerik One.
In an ever-changing, increasingly digital and sustainable world, how does the Sinumerik One CNC fit in? How has Siemens made it compatible with these requirements?
With this new Sinumerik generation, Siemens is promoting digital transformation in the machine tool sector.
The Sinumerik One CNC enables seamless interaction between the virtual world and the real world for significantly increased productivity in production and machine tool use.
This latest generation of CNCs comes with its native digital twin, allowing CNC machine tool manufacturers like SAOMAD and their end users to be more sustainable, to contribute to decarbonisation and to reduce energy consumption, time and waste of resources by using dedicated software to create the digital twin of the machine tool.
What do you mean by the 'digital twin' of the machine tool? How can one be more sustainable by creating it?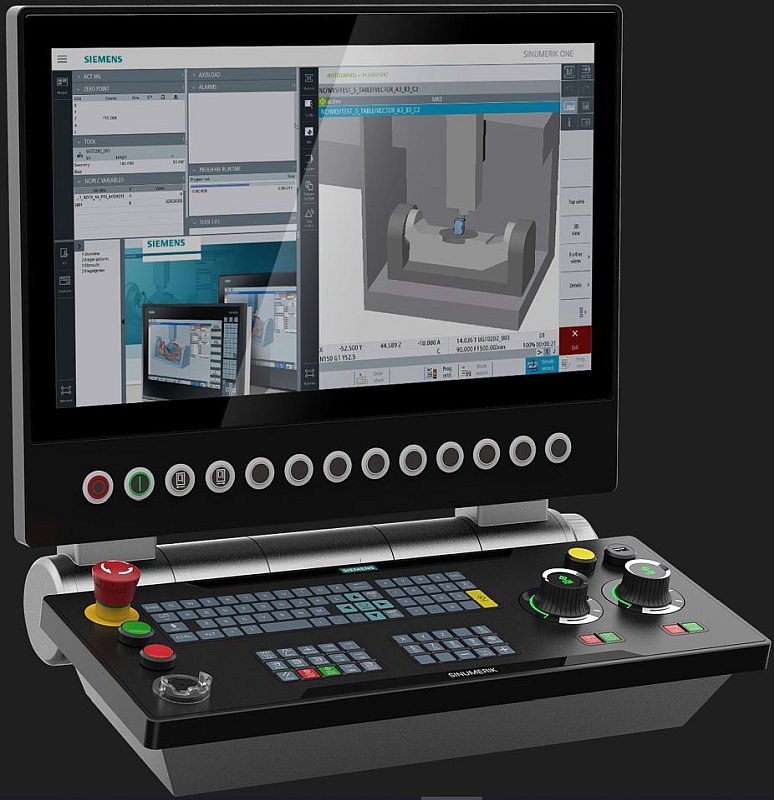 Sinumerik One offers 8 different levels of digital twin, 4 for machine manufacturers via the 'Create my Virtual Machine' software and 4 for end users via the 'Runmy Virtual Machine' software.
Let's take the practical example of Saomad, which, in order to be more sustainable, will in the near future use the Create my Virtual Machine software to engineer machine tools.
The full version of the software will allow Saomad to have a digital copy of the machine tool and gain the advantage of parallel engineering of the PLC, of the safety program machine data, cycles, operating surface and axis simulation, of collision avoidance, etc.
This means that every important process can be simulated, tested and optimised before actually building the machine and getting it physically ready. In practice, all engineers can develop their work by forgetting the old serial approach of finishing one process and of starting the next.
All this, of course, is done remotely, thus avoiding design errors with the consequent risk of wrong purchases, part changes and programme settings, loss of time and additional costs.
This is the contribution Siemens Sinumerik One can bring to making Saomad state-of-the-art and clearly more sustainable.
You also mentioned end customers. How can Saomad make them sustainable?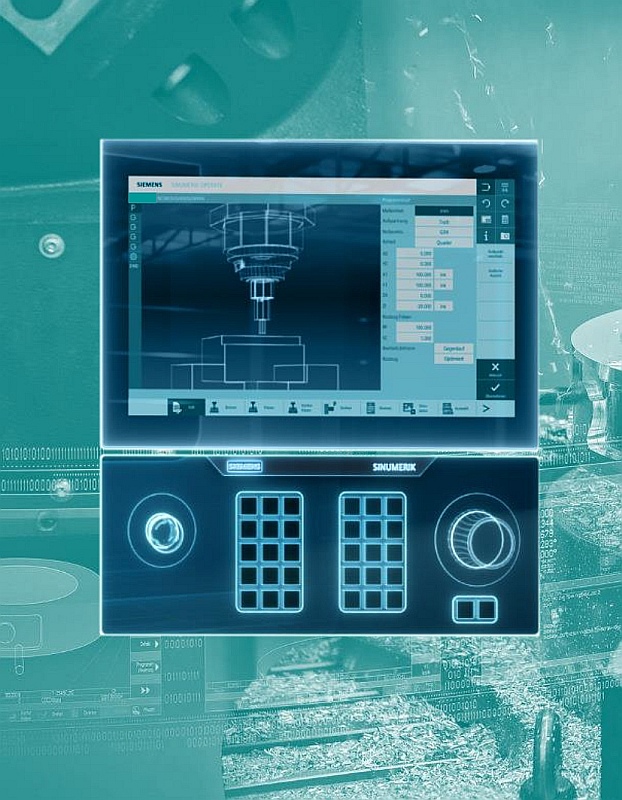 True, this also applies to Saomad's end customers who are becoming increasingly more demanding, and to everyone in general.
With the use of Runmy Virtual Machine software, end customers in the office can first test the part machining programme, obtain missing information on the work programme, acquire the complete list of tools required for the programmed machining operation, and obtain the 3D drawing and all the information they need to work safely, since everything has been tested in the technical office on the digital twin of the machine currently on the shop floor.
Finally, new operators can be trained without physically engaging a machine in production, thus avoiding mistakes and production delays and many more issues thanks to the digital applications that this generation of Sinumerik can handle.
Something that sounds likeSci-fi seems to be turning into reality: what impact will it have on the way CNC machining centres are built and sold?
Definitely a positive impact. A new way of designing, selling and using machine tools is here.
The digital twin is no longer just an option of the machining centre, but an effective and sustainable competitive tool for both the manufacturer and the user, and we at Siemens are very honoured that Saomad is adopting it, confirming its commitment to being technologically in step with future markets.